A 360-degree integration
of the hospital project
The contribution of the medical engineering component is fundamental for the planning of a new hospital, as it represents the real link between the expected clinical goals and the healthcare infrastructure where such goals will be realized. With this vision, 4CE team engineers perform their activities along all the development phases of the hospital project, in close collaboration with the traditional sectors of architecture, structural and MEP (electro-mechanical installations) design. Medical engineering hence acquires a coordination role among the different technical disciplines.
4CE methodology is implemented starting from the feasibility studies of the project, with the assessment of the expected organizational model of the new hospital. It is then carried on through the preliminary analysis of healthcare technologies needs in the different departments and their technical and economic impact, hence contributing to the definition of an appropriate construction plan, aiming at the optimization of the total costs and dimensioning of the new healthcare infrastructure.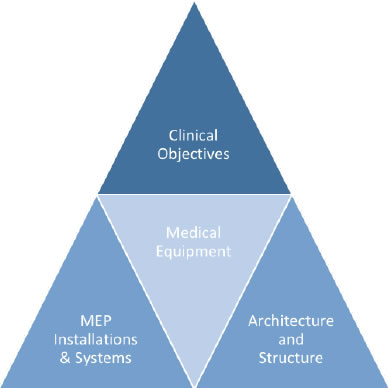 In the following phase, 4CE specialists elaborate the internal functionality by studying the inter-adjacencies among units and services, their space allocation and the technical-economic implications of the equipment. Thanks to the know how of the clinical workflows and their technological and operational aspects, the medical engineering component becomes central and strategic to the decisional process.
During the advanced and detailed development of the design, 4CE engineers implement the medical planning by defining the distribution of biomedical technologies up to the room level, together with the corresponding graphical representation of the layouts, bill of quantities and related codification. At this stage, the pre-installation requirements of each equipment are analyzed room by room and compared to the mechanical and electrical design, in order to guarantee their consistency during the works execution phase and the following installation.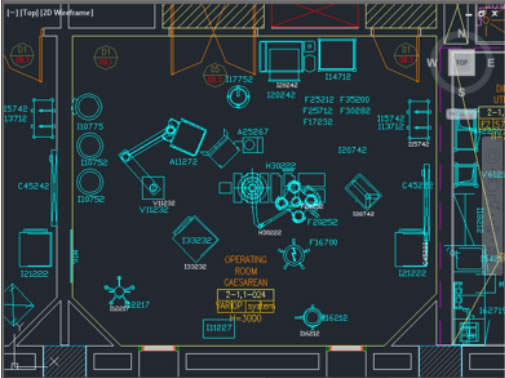 4CE team conducts its strategy also during the construction phase, directly at the works site, through the medical works supervision, by verifying the structural and installations activities related to the equipment. This approach is functional to the correct site preparation for the subsequent supervision of the medical equipment installation activities by suppliers, until the testing and the final commissioning.